TAKEMOTO HANDMADE EYEWEAR
Regular price
Sale price
$259.00
Unit price
per
Sale
Sold out
 Don't know what to choose?
 1. Blue Light Blocking Glasses
    Blue Light is considered much more harmful and powerful than UV rays since our eyes do not have a natural way to shield against it. It reduces the production of melatonin which signals our body it's time to sleep. The combined overexposure and lack of melatonin can lead to several diseases like eye strain, macular degeneration, heart disease and cancer.
    Blue Light is part of the "visible light spectrumh" which-can be seen by the human eye: Everyohe is exposed to it everywhere and everyday-fram sunlight to using digital devices: Prolonged exposure to"smartphones, and tablets can cause digital eye-stram Devices with LED screens release a fórm of bright, bide light.
2. Reading Progressive Prescription Glasses
    Usually, after turning 40 years old, human eyes will gradually become impaired, and gradually people can't clearly see things in close distance. Reading glasses are then needed.
    Reading glasses with progressive multifocal lenses were invented and have completely solved the vision problems of the middle-aged and elderly people. One piece of lens could satisfy all the gradual vision requirement from near to far, so that users can read, watch TV and drive at the same time.
    TAKEMOTO aims at developing a professional progressive multifocal eyewear brand that serves the vast majority of middle-class consumers. The frames are all natural materials and can even achieve "zero chemistry" as needed.
3. Transition Sunglasses
    If you are nearsighted or farsighted, transition lenses are a good choice. Whether it's indoors or outdoors, you don't need to prepare two pairs of glasses to exchange.
    Or if you have good eyesight and you wear sunglasses a lot, then this is definitely the way to go. When you are outside in bright light, the lenses usually turn dark gray or brown. TAKEMOTO recommend grey one because grey will change faster than brown.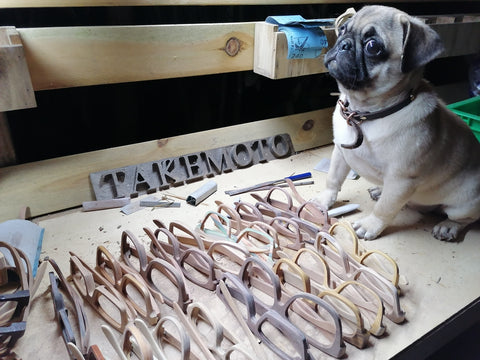 Customize your unique rectangle eyeglasses now, according to your face shape. There are different sizes of frame and you can customize different lenses with prescription, such as sunglasses, transition eyewear, progressive reading eyewear, blue light blocking glasses. 
Features:
1. 100% handmade by the designer and founder, Takemoto Huang
(Become an eyeglasses maintenance worker since 1996, a craftsman since 1998, and a senior optometrist since 2005).
2. Crack treatment, not easy to break.
3. lightweight and environmental
4. Lifelong free maintenance, replacement parts or renovated.
5. Can install the prescription lenses.
6. Include: handmade wood box*1, cleaning cloth*1, eyeglasses*1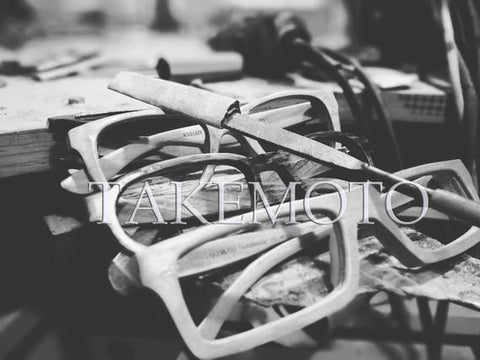 Mr. Takemoto has something to say...
Hi, dear Lady or Sir:

I have realized that a growing number of people are purchasing bulk produced hand-made glasses and sell them online. Actually they are not participants in the field of glass. They are not involved in the design, marketing, or research process of glass. Without shedding any sweat or hurting their hand, they are nothing but intermediaries. However, many of them even claim themselves as designers or producers by pirating the pictures from others. I make around 1,000 pairs of glasses every year for this world. I design them, improve the materials, and even invent new materials. Through a long time of research, I managed to correct the mistakes. Gradually I find my works mature enough and are favored by the customers.
I would answer all of your questions in person including those concerning optics. I mount the lens and pack the parcels all by myself. Sometimes I even drive to the international shipping agent in order to guarantee that you can receive your glass one day earlier. There are about 50 working procedures for each pair of glass.
Share
View full details
You may also know
After-sales services

1.  The shipping cost for shipping the items to the studio are the customers' or the distributors' to pay.
2.  The shipping cost for shipping the items to the distributors after the items being repaired will be paid by the studio.
3.  Repairing (NOT exchanging) frames and arms for free and for glasses of all series.
4. Free exchange for the arm for once for TAKEMOTO Series; for further exchange, cost of production (20% of the original price) is required.
5.  Lifetime free exchange for the frame and the arm for TAKE HUANG series, repair the inlays for free.
6. Lifetime free repairing and exchange for metal hinges.
7.  Glasses cases and lenses maintenance services are NOT provided.
About Progressive Lenses

   Usually, after turning 40 years old, human eyes will gradually become impaired, and gradually people can't clearly see things in close distance. Reading glasses are then needed.

    

   The first generation of reading glasses only has one diopter in the lens,

      and the second generation has two diopters in the lens. But the second generation has  safety problems, such as not being able to take the stairs or driving, so it was not even as popular as the first generation.

   Then the third generation reading glasses with progressive multifocal lenses were invented and have completely solved the vision problems of the middle-aged and elderly people. One piece of lens could satisfy all the gradual vision requirement from near to far, so that users can read, watch TV and drive at the same time.

      When you read the newspaper ,you  need to be careful with your children, and maybe look at the scenery in the distance.

When you shoot a video for others, will need to see the screen clearly,

as well as what is being shot.

    Progressive multifocal lenses are very expensive to be produced at first, but with the maturity of technology and the increase in factories, prices are starting to become more available to more people. TAKEMOTO aims at developing a professional progressive multifocal eyewear brand that serves the vast majority of middle-class consumers. The frames are all natural materials and can even achieve "zero chemistry" as needed.

     

    When you drive, you always need to take a look at the navigation occasionally, then look at the road ahead, as well as various road signs.  Ordinary reading glasses can't help you see everything clearly. You may choose a pair of reading glasses or not wearing them, but when you stop to watch your phone or study the itinerary, you have to find your reading glasses.  In addition to the transparent blue-light progressive reading glasses, TAKE progressive also offers the choice of transitional and colored sunglasses, making it a perfect choice for traveling or driving.  

      

 

How to get the diopter?   

 

 

 

     If you don't have myopia or astigmatism in the past, need not to see the doctor to get the diopter. 

    You only need to choose your original diopter, plus +0.25, and the other data will be generated automatically. Only few reading glasses will need far-distance diopters, and we will confirm it for you.

    If you do have a prescription from doctor, that mean you need to customize the lenses, usually with myopia and astigmatism, then we need a picture of prescription, will need one week to customize.

 

Precautions of Progressive Glasses


1.Progressive glasses require an adjustment period, which usually takes a few days, if fail to adapt to them, please contact us within 2 weeks.

2.If there is a problem with the size and diopter ,please contact us within 3 days of receiving them.

3.If it is a customized frames or lenses, refund is not acceptable, but you can replace them until they are right.
Size Chart

Takemoto is the only workshop providing 5 sizes in the world. These sizes suit 99.99% people in the world, but it also can be customized for your eyeglasses if there's extended or widened.

width of lens—width of bridge—length of arm

S: 46-20-142mm,
M: 49-20-142mm,
L: 50-20-142mm,
XL: 54-20-142mm,
XXL: 56-19-142mm

 
Read Your Prescription

If you can't make sense of your eyeglass prescription, you're not alone.

Common Rx Acronyms

OD=

Oculus Dexter refers to right eye.

OS=

Oculus Sinister refers to left eye.

SPH=

Sphere corrects nearsighted or farsighted vision.

CYL=

Cylinder combined with Axis corrects astigmatism.

PD=

Pupillary Distance is the measurement of distance between the pupils.

Here are some common prescription types to help you navigate yours.

Standard Grid Format

This is the most common format with clearly printed fields for OD, OS, SPH, CYL, etc.; values are usually entered with computer, but may be handwritten by doctor.

Rx Notes:

Sphere (SPH) and Cylinder (CYL) always have a (+) or (-) sign.

On any prescription, PD can be written in different ways: e.g., 62 (Single PD), 33/31 (Dual PD), or 62/60 (Distance PD/Near PD).

Blank Format

The information on this free-form prescription is usually handwritten.

Progressive / Bifocal

For multi-focal glasses, as well as reading and computer glasses, your Rx will include an ADD or NV value. This number always has a (+) sign.

| | |
| --- | --- |
| Rx Note: | The type of Rx glasses may be noted on a prescription, such as DV [Distance Vision/nearsightedness] and NV [Near Vision/reading]. |

Prescription with Prism

The less common prism Rx refers to the amount of prismatic power needed to compensate for eye alignment issues (e.g., double vision or "lazy eye"). The prism Rx will have two values: PRISM & BASE.

| | |
| --- | --- |
| Rx Note: | BO=Base Out, BI=Base In, BU=Base Up, and BD (or BDn)=Base Down. |

Vertical Prescription

Unlike typical Rx formats, with values going from left to right, the vertical Rx values are listed top to bottom. This format is less common in the US.
History of TAKEMOTO

The Origin of the Brand Name TAKEMOTO

In 1999, Mr. Huang(Takemoto) met a talented and brilliant girl, Ms. Liu, in the eyewear company for which he worked. They fell in love with each other at first sight. One day the girl gave Mr. Huang a pen name竹本(Zhu Ben, literally meaning bamboo and stem) when joking with him. Actually this was just a mischievous joke between young lovers, simply because竹and本could form a Chinese character笨(ben, could mean silly).

Later the girl graduated and left that city, and they had never seen each other ever since. Takemoto has become Mr. Huang's pen name from then on, no matter for writing or for drawing. When he started to design and make eyewear in 2008, without any hesitation, he decided to use it as the brand name, but it was impossible to directly translate it into English. While in Japanese, the corresponding character of surname TAKEMOTO is exactly竹本, and the pronunciation and the form are both nice. Therefore, TAKEMOTO has thus become the brand name.

Mr. Huang is kindly addressed as TAKE by his overseas friends, and this is the origin of the sub-brand TAKEBYTAKEMOTO. The biggest difference between TAKEMOTO and other Western handmade eyewear brand is that, it contains oriental aesthetics and ancient wits in craftsmanship, in spite the fact that the environment and the views of many people has been one of the biggest obstacles for brand development. However, with sincere love for Chinese culture, Mr. Takemoto named the highest-end collection as TAKEHUANG in 2018. By applying the Chinese surname in the logo, he also hopes that one day a symbol of Chinese character can appear as one of the worlds top brands in the future.

 

Timeline of Takemoto

Part I:A Farm Boy Who Loves Art and Craft

1977-Born into a farmers'family, and has been enthusiastic for art and craft since childhood.

1987-Began to learn Chinese painting and calligraphy.

1990-Began creative writing, tried to write poetry and essays, which were collected in 2018.

1992-Won the third prize of the National Art Competition.

1994-Began to study modern art and design.

 

Part II:A Young Man Who Have Worked in All Positions in the Optical Industry

1996-Entered the eyewear industry by drawing and making promotional posters for an eyeglasses company,

1997-Got a chance to work-study in the eyewear company, as an art designer and planner.

1998-Officially obtained part-time job in the field of glasses:sales clerk and maintenance apprentice. Preliminarily learnt the manual cutting and grinding technologies of the lenses(the oldest lens mounting technologies).

1999-Became assistant to the general manager, and manager of the planning department(22 years old), and met Mr.Takemoto.

2000-Learnt optometry, and accumulated a wealth of experience in optometry.

2001-Established training workshop and planning studio to provide professional training and marketing planning services for optical shops.

2002 Opened the first optical shop in his hometown and began writing the first novel.

2003-Opening second and third optical shops.

2004-Established an eyewear company, and began to operate eyewear e-commerce.

2005-Passed the national senior optometrist and optician examinations and obtained the according certifications.

Part III:The Man Began to Make Bamboo Glasses, and Sell Them all over the World

2007-Registered Hong Kong MJX International Trading Co. Ltd.

2008-*Started designing the first pair of glasses. LOVE-WOOD, and tried to make it from wood. *1#studio established(garage)...

2009-Through two years of arduous work, a set of completely self-designed bamboo and wood glasses manufacturing process was created.

2010-*ETSY store opened and officially began selling its own works worldwide.

*WALKER2010 and ANGEL2010 series were born.*Participated in the world's largest optical exhibition Milan MIDO exhibition, and received positive response and achived good sales performance.

2011-*PARISAUTUMN,THANKS,COVER-M, and ANGEL2011 series were born.

*Participated in the SILMO exhibition in Paris and meet French eyewear master Daniel.

*2#Studio was established the first natural wood crack prevention technology was completed, and *the world's first seashell glasses was born.

*The world's first cork-based glasses were born.*The world's first designer and craftsman who combined bamboo, wood and fabric.

2012-*Unexpectedly invited to participate in the Milan MIDO Design Gallery(DESIGNLAB, the world's top glasses exhibition hall), and got known by the most important person in the history of development: Italian celebrity Lapo Elkann, who offered to cooperate.

*KNIGHT, NEVER, BEGGERORKING, andWALKER2012 series were born.

*The world's first pair of glasses with bamboo-woven frame, and the mixed material of carbon fibre and bamboo was born.

2013-*Met Lapo Elkann once again at Shanghai Peace Hotel, who again offered to cooperate with the world's top brands.

*Another craft and design masterpiece was born:natural leave vein glasses making technology.

2014-Talked with CEO of the Independent Italian Glasses brand owned by Lapo Elkann for cooperation in Hong Kong; however, negotiations has been suspended due to objective reasons.

Part IV:Gradually Became a World-Renowned

Independent Designer Brand

2015-In spite the extreme loneliness and hardship, the brand TAKEMOTO began to rank among the top 5 in Google's natural search results, and became the world's top ten genuine handmade bamboo and wood glasses designer brand.

2016-Building4#studio in an impoverished mountain village, an art village under construction, where bamboo and wood resources were abundant and villagers needed employment opportunities; this provided the solid foundation for the production of TAKEBYTAKEMOTO low-end series, and the annual production capacity is expected to reach 3,000 pairs.

2017-*Was invited to participate in the World's Best 100 Craftsmen Exhibition held by the Toyama Prefecture in Japan, being an only optical designer and craftsman..

*The world's first pair of seashell-inlaid lacquer glasses and silk-based glasses were born.

2018-Visited Japan again, and visited the master of Japanese handmade glasses:Mr. Tai Hachiro. *The world's first fine bamboo-woven framed glasses box was born.

2019-*Officially launched "TAKEMOTO Customization System"to develop affiliation business with an innovative mode of zero inventory and zero pressure, and started global brand development plan.

The Monologue of the Founder

For 23 years I have been trekking alone,

through countless thorny wasteland.

More than often I was surrounded by enemies,

but I conquered all the need. welcome and indifference

Through the everlasting loneliness and nights.

I saw you standing in the library.

You seem to have been looking forward for a long time.

and together we can build a splent new kingdom

-----TAKEMOTO.HUANG

-----2019

In 2010,I moved to 2#Studio after dismissing the trading company and putting an end to domestic business. This place belongs to the government's creative industry park. I left there with anger because I couldn't bear the corruption and malfeasance. In 2013,I started to build the 3#Studio on the top of my home of the 7th floor all by myself it took me two years and thousands of times going upstairs and downstails carrying things of almost 5tons in total it was two years of exhaustion In 2015, it was torn down fiercely by the government in ridicule. This was the most miserable memory in the development of the brand.

In 2016, I finally found an abandoned old house in an impoverished mountain village, and transformed it to the4# Studio. From then on, I do not have to drift about and have enough space for development steadily. It covers 200 square metres and has received visitors from Canada Germany, and the USA etc. Expanding the production capacity of low-end products has solved the employment problems of local people in need to some degree, and has driven the development of traditional local craftsmanship 108 Craftsmen Association was then established in 2017.

No one knows what I have endured in the past decades.For the development of career and pursuit of the dream, I have sold an apartment, two optical stores, and two online optical shops in China, and even sold my favourite Rolex watch in the most difficult time. However, my family did not recognize or support my career; they merely reluctantly supported me. The government has ignored a brand with outstanding position in the world and has never provided any help. Therefore, I would most like to thank you, every customer from North America, the Europe, and Australia… It was your trust and support that cultivated the brand through all the difficulties.

Takemoto.Huang

Thank you.

2010/Milan MIDO international optical fair

2011/Paris SILMO international optical fair

2012/Milan MIDO international optical fair (24# Design Hall)
Great Design!
The craftsmanship is exemplary, and the unique sensation of wood invites you to keep your timepiece with you constantly.
Takemoto Handmade Eyewear 2019
Craftsmen House Reconstruction Phase I by TAKEMOTO